About The Journal
Do you wish to live a happier life? There is no greater secret to happiness than being grateful for what you already have. Start to build your gratitude muscles, using 30 Days of Gratitude. 30 Days Of Gratitude is a Gratitude Journal filled with prompts and quotes to encourage you to live a life filled with gratefulness. You will find thirty gratitude prompts help you to recollect your gifts. You will learn to find joy in the smallest things in your life by practicing gratitude. Want to be more expressive? Draw a picture or stick a photo on the picture page to show your deepest form of Gratefulness.
You will find in the Journal:
Bonus
When you buy '30 Days Of Gratitude', you'll receive the bonus item below. If you purchase the hard copy, you can claim it by forwarding your purchase confirmation email to admin@learn2livefully.com. If you buy the printable version, you will get it along the journal.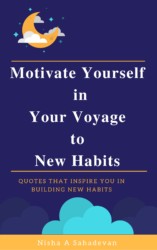 Habits Define Us. We can change our lives by changing our habits. However, changing habits is not an easy task. We might have spent years building them. 'Motivate Yourself in Your Voyage to New Habits' is a book of inspirational quotes to help you motivated in building new habits.