Thank You for purchasing our Personal Growth Journal. Hope this journal help you in fulfilling your dreams. Here is a bonus to help you in your personal growth.
Habits define us who we are! Self-improvement is possible only by building new empowering habits by eliminating old patterns. 'Motivate Yourself In Your Voyage To New Habits' is a book having inspiring picture quotes from highly successful people to keep you motivated in building new habits.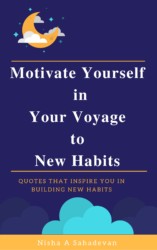 Click the below link to get the Ebook.
Motivate Yourself In Your Voyage To New Habits_ebook